The preeminent golf league suddenly decided that the kingdom's many sins are not a problem.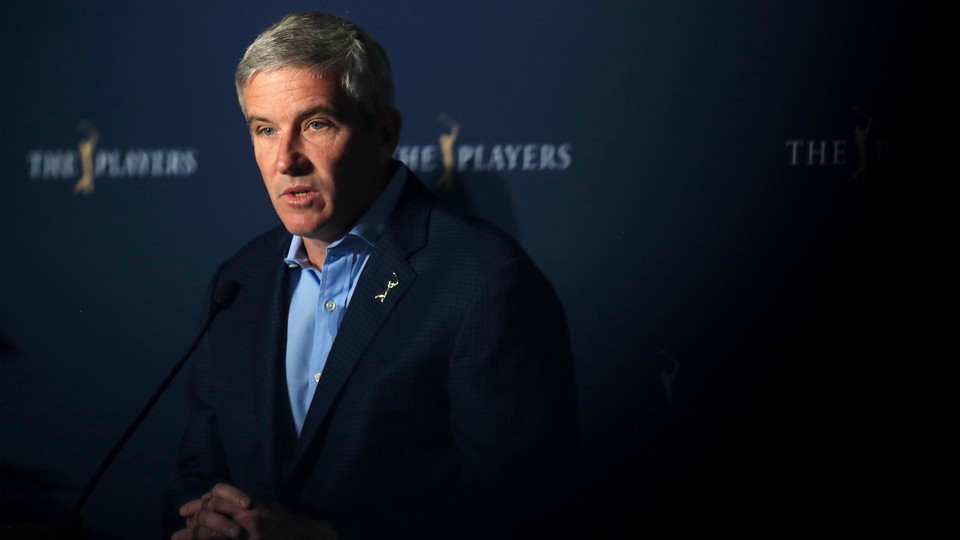 When PGA Tour Commissioner Jay Monahan was asked last year about his indefinite suspension of 17 players for joining the rival LIV Golf league, Monahan chastised the golfers for choosing money over morality.
Because LIV gets its money from Saudi Arabia, an absolute monarchy notorious for its human-rights abuses, Monahan implied that players who chose LIV over professional golf's preeminent league would regret their association with the kingdom. "I would ask any player that has left or any player that would consider leaving, have you ever had to apologize for being a member of the PGA Tour?" Monahan said then.
But in one of the most stunningly hypocritical reversals in recent sports history, Monahan is now on Team LIV and, by extension, Team Saudi Arabia.
The PGA Tour and LIV Golf announced yesterday that they will merge their business operations, proving that one of the Wu-Tang Clan's most famous lyrics remains unerringly true: Cash rules everything.
Monahan struggled to explain his flip-flop. "I recognize that people are going to call me a hypocrite. Anytime I said anything, I said it with the information that I had at that moment, and I said it based on someone that's trying to compete for the PGA Tour and our players. I accept those criticisms," he said during a conference call. "But circumstances do change. I think that in looking at the big picture and looking at it this way, that's what got us to this point."
But the circumstances aren't what changed. The PGA Tour just decided that it wants access to LIV Golf's enormous financial resources, which come from Saudi Arabia's Public Investment Fund. One of the world's largest sovereign-wealth funds, it has an estimated $600 billion in assets.
The fund is controlled by Saudi Arabia's de facto ruler, Crown Prince Mohammed bin Salman—the same man whom the CIA has deemed culpable for the murder of the Washington Post contributor Jamal Khashoggi. The prince has admitted that Saudi officials were behind Khashoggi's death but denied any personal involvement in the journalist's murder.
The problem with the golf merger isn't just that the PGA Tour eagerly prostituted itself, or that it didn't even have the decency to consult its players before making the deal, or that it didn't care that some players actually had moral objections to LIV Golf, or that the PGA's sudden shift was unfair to other golfers who, under the assumption that Monahan would stand firm, had previously turned down the opportunity to make millions of dollars by defecting. By selling out, the PGA Tour has also permanently aligned itself with a country that tortures prisoners, executes dissidents and others for vaguely defined offenses, subjects women to second-class treatment, and criminalizes homosexuality. The PGA's decision horrified the families of 9/11 victims. Osama Bin Laden and 15 of the 19 hijackers were from Saudi Arabia, and the country had long supported the spread of extremist religious ideology around the world. When casting aspersions on LIV last year, Monahan noted that he was close to two families that had lost members in the 2001 attacks.
"PGA Tour leaders should be ashamed of their hypocrisy and greed," Terry Strada, the chair of 9/11 Families United, said in a statement yesterday. "Our entire 9/11 community has been betrayed by Commissioner Monahan and the PGA as it appears their concern for our loved ones was merely window-dressing in their quest for money—it was never to honor the great game of golf."
If the PGA thinks that ignoring all the Saudi monarchy's sins is just the cost of doing business, then the golf league's reputation and credibility clearly weren't worth that much to begin with.
If you were searching hard for a reason to give the PGA a pass for joining forces with its former enemy, you could make the argument that this merger helped the established league avoid its own demise. LIV Golf is reportedly paying four of its top players a total of nearly $600 million. The organization once offered Tiger Woods a multiyear contract worth $700 million to $800 million. Other PGA players eventually would have a hard time resisting the amount of money and other perks that LIV's Saudi backers are offering. LIV golfers were playing for bigger prize money, having to compete in fewer tour events than they did on the PGA Tour, and receiving lucrative bonuses beyond their winnings. For example, the two-time majors champion Dustin Johnson competed in 307 events as a PGA golfer and earned almost $75 million. After playing one season on the LIV tour, Johnson earned more than half of his career PGA earnings.
Another likely factor in the merger was the draining legal battle taking place between both parties. Last August, 11 of the golfers whom Monahan suspended filed an antitrust lawsuit against the PGA Tour. The plaintiffs argued that by not allowing them to compete in PGA events, the organization was undermining their livelihoods and blocking competition. The PGA countersued, accusing the golfers who joined LIV Golf of violating their commitment to the older tour.
Many observers speculated that if the lawsuits continued, information would come out that would have painted both sides in an unflattering light.
Whether antitrust regulators in the United States or Europe will try to block the merger isn't yet clear. Ultimately the PGA decided that making the abrupt switch from concerned global citizens to opportunists was worth all the risk. In wagering its soul for a chance to cash in big, the PGA is hardly an anomaly in professional sports. So far, the conservative politicians who accused the NBA of bending its knee to China have so far been notably silent about the PGA's alliance with Saudi Arabia. Once the criticism of the merger dissipates, the combination of the PGA's prestige and Saudi money will create buzz and excitement. But perhaps Monahan should ask himself a version of the question he once posed to defectors: How will you feel when you have to apologize for being the commissioner of the PGA Tour?