Filled with an irresistible cheesy mushroom risotto stuffing, these juicy stuffed tomatoes are baked to perfection. You can make this impressive dish with only eight simple ingredients and in under 30 minutes.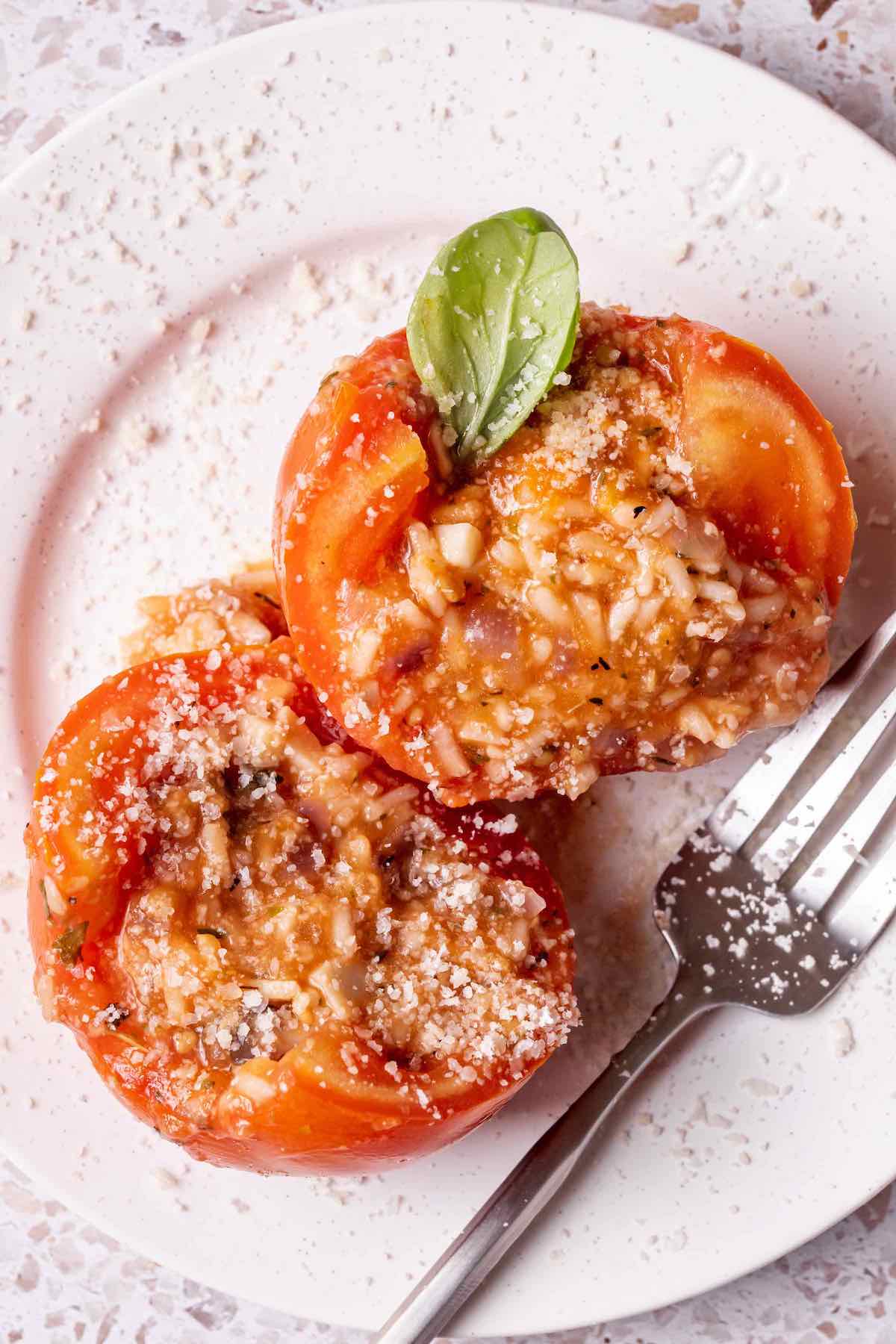 When championing vegetables, I love using unique ways to bring out their best flavors. Dishes like eggplant rollatini, cabbage steaks, and zucchini boats are my absolute favorites. 
And while tomatoes are most often used in making pestos, sauces (or sugo!), soups, and curries, there's so much you can do with them. You'll love these stuffed tomatoes if you have enjoyed my stuffed peppers recipe.
Why you'll love this recipe
Deceptively easy. Like stuffed chicken or salmon, don't get overwhelmed by the fancy presentation of these tomatoes. They are super easy to put together.
Filling. Because they are stuffed with rice, mushroom, and cheese, they make for a filling entrée or a vegetarian main course.
Yummy. Combining creamy mushrooms, herb rice, and cheese creates the classic Italian flavor pairing. 
Crowd pleaser. Like stuffed pork loin, stuffed tomatoes always have a place on my plate, regardless of the season. Serve this dish at your next barbeque, birthday party, or family gathering, and floor your guests.
I love how the soft, sweet and tangy tomato complements the meaty and cheesy mushroom rice stuffing.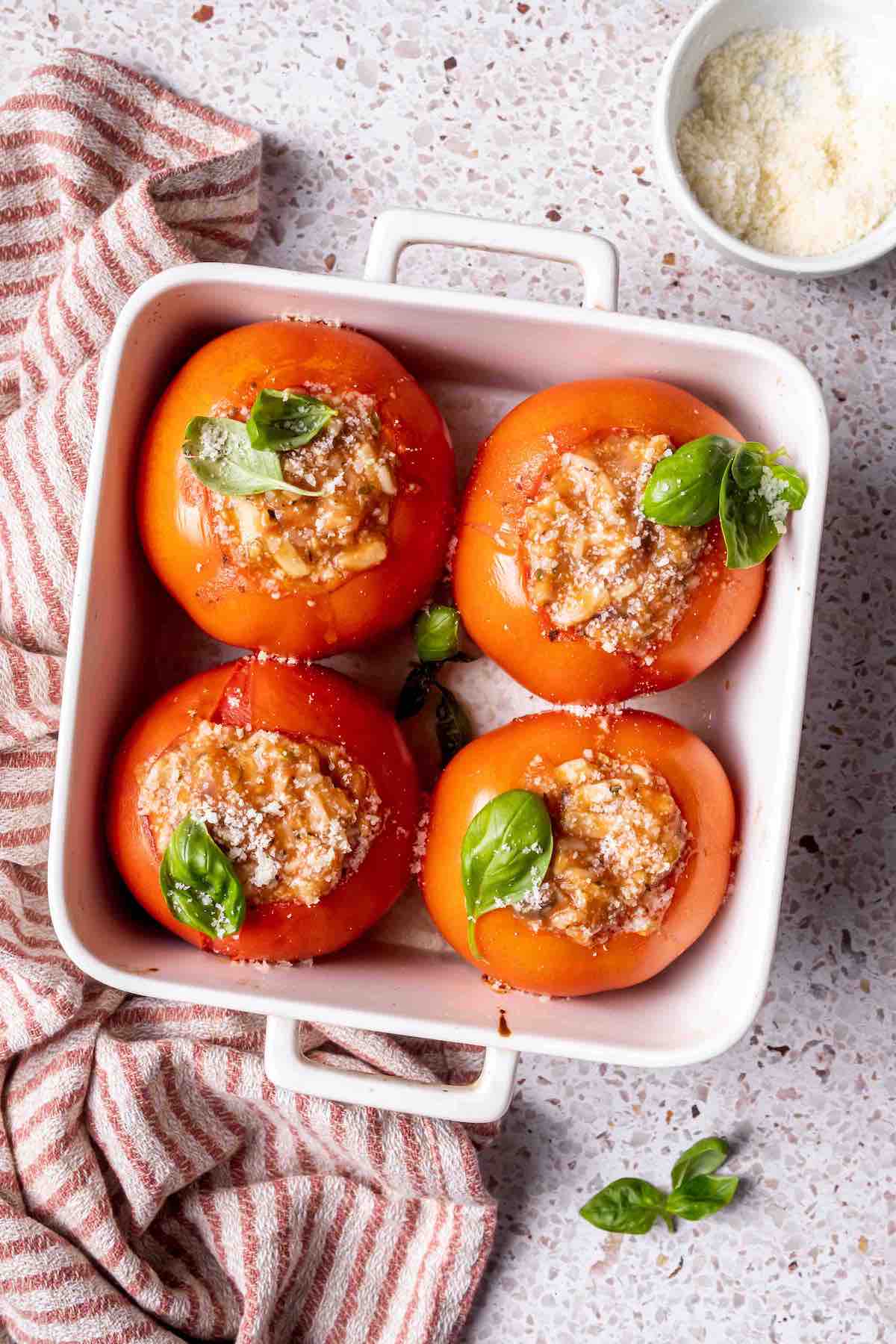 Ingredients Needed
You can make the most delicious stuffed tomatoes with just eight simple ingredients. Here's what you'll need:
Tomatoes. Because we'll be stuffing the tomatoes, you must choose large tomatoes.
Butter. To sautée the stuffing. I like using butter for its richness. But you could also use plant-based butter or olive oil for sweating the onion. 
Red onion. Dice a medium-sized onion to make the stuffing.
King oyster mushrooms. Slice them thinly to replicate the texture of the shredded meat. Even hardcore meat eaters will appreciate its excellent mouthfeel. 
Rice. You can use any available rice for this stuffing. For a risotto-like texture, use Italian Arborio rice.
Vegetable stock. To flavor the stuffing.
Italian seasoning. Either use herbs like oregano, rosemary, and thyme or mix herb seasoning for a warm aroma.
Parmesan. For the salty, cheesy taste.
Dietary swap
For vegan stuffing, substitute parmesan with nutritional yeast or plant-based cheese.
How to make stuffed tomatoes
It may seem like you need a lot of time and skill to bake these tomatoes. But when broken down stepwise, you'll see how easy it is to make them. 
Step 1- Prep the tomatoes
Cut off the tomato tops and open the tomatoes. Scoop out the flesh and blend it fine. Set it aside and use it in the stuffing. Place the empty tomato shells in the baking dish.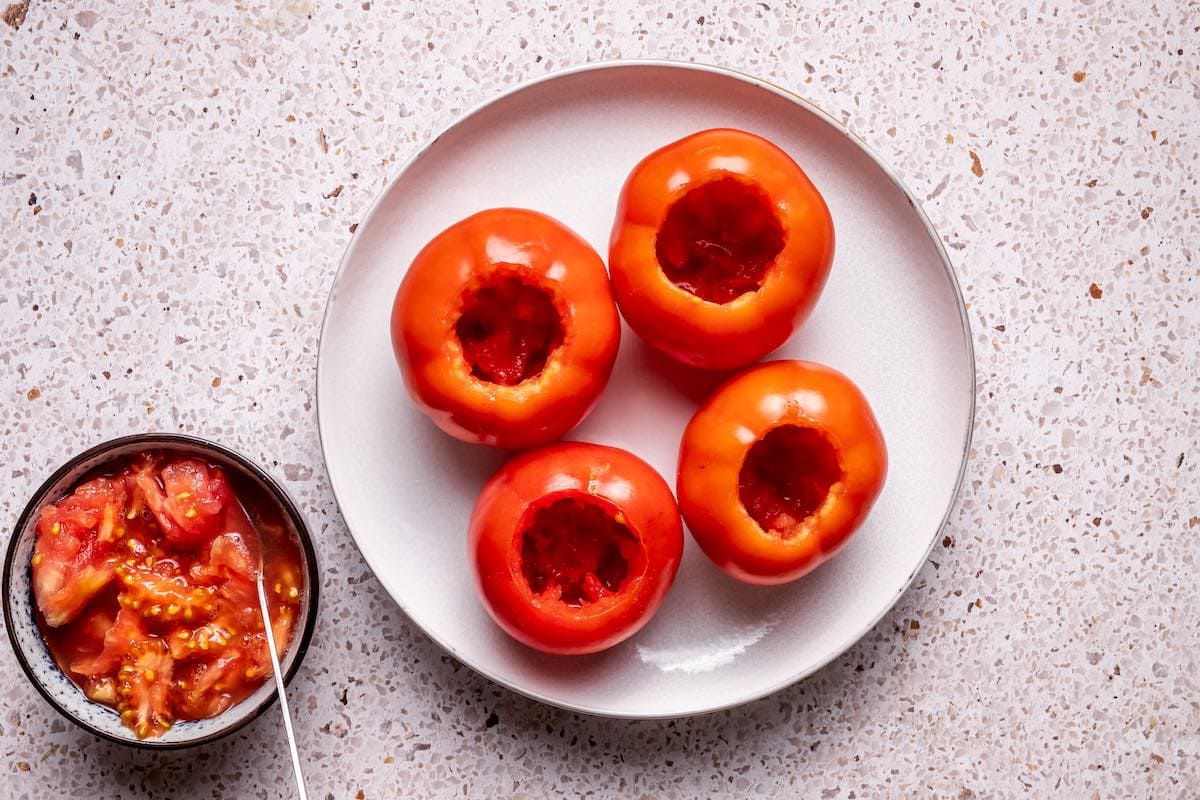 Step 2- Make the stuffing
Melt butter in a medium-sized skillet and sauté the onions at medium to high heat. Once translucent, proceed to add the rest of the vegetables.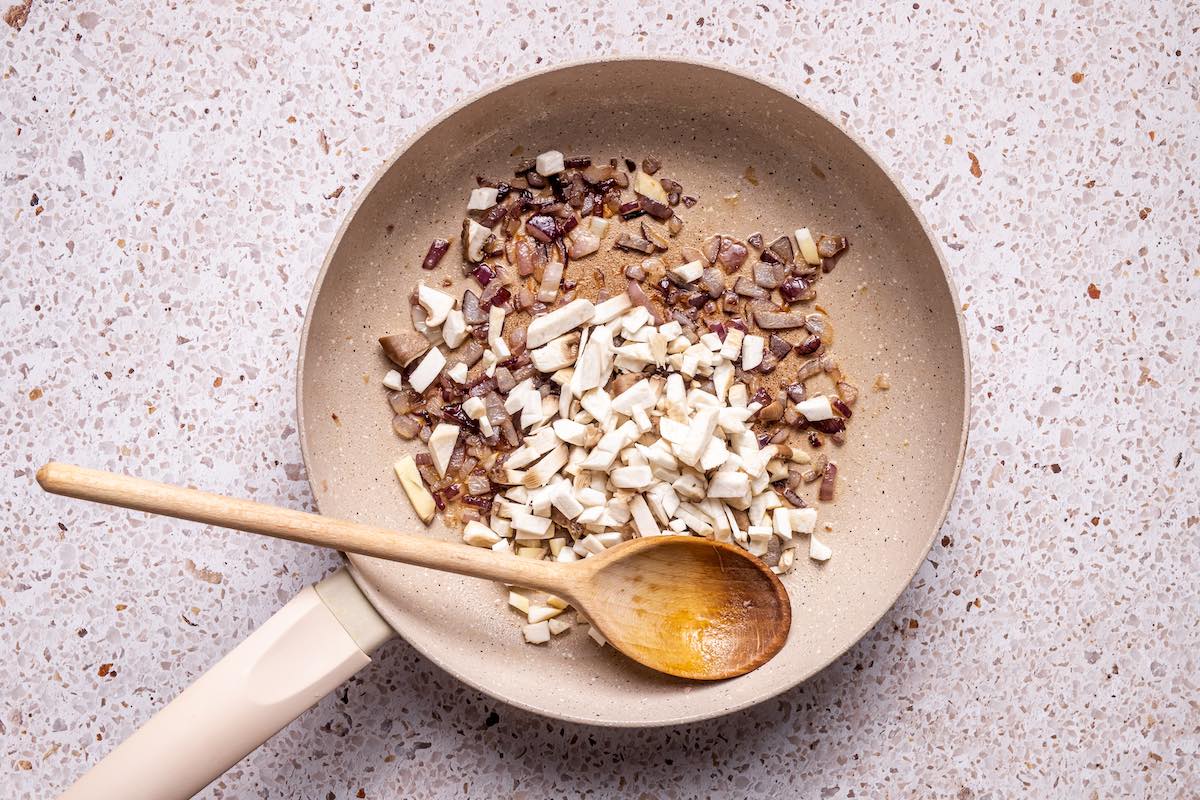 Add sliced oyster mushrooms to the pan and cook it for two minutes. After the mushrooms are ready, add rice and sauté until it glistens.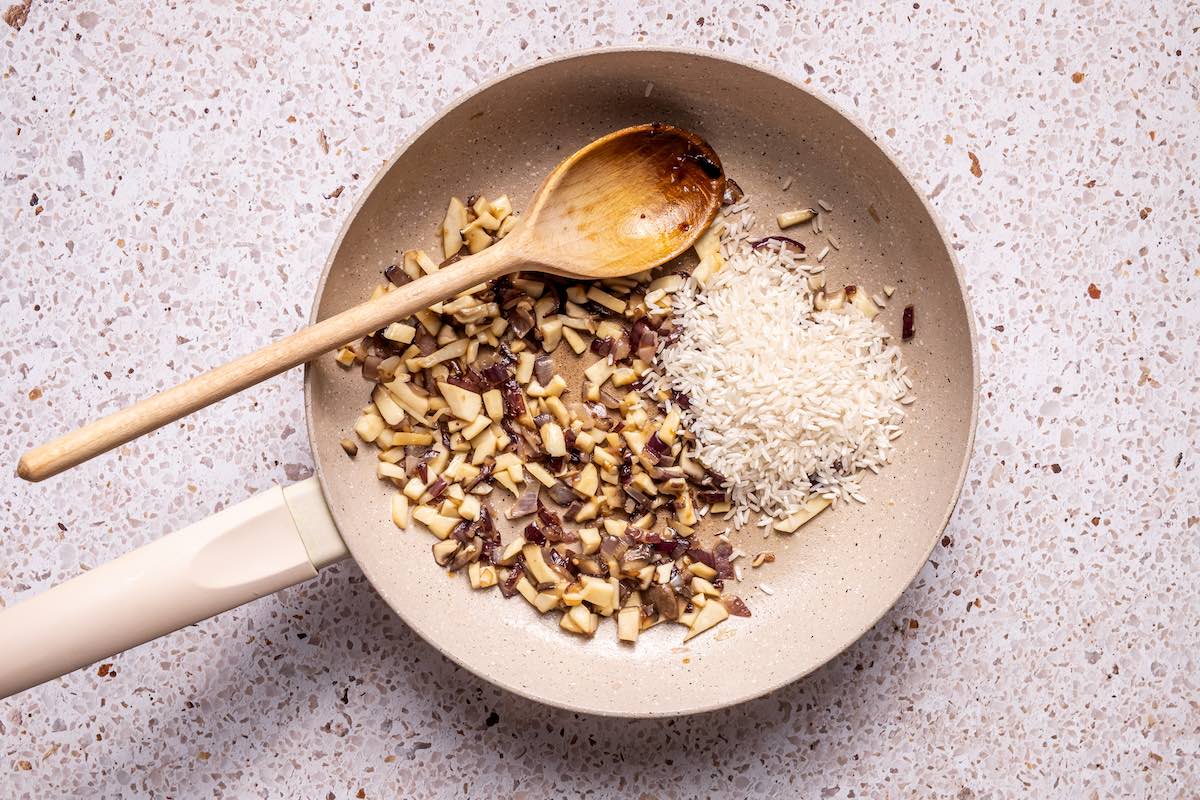 Then add the vegetable stock, stirring a couple of tablespoons at a time until all the liquid is absorbed. 
Add the blended tomatoes, spices, and cook for a few more minutes. Stir in parmesan and bring the mixture together.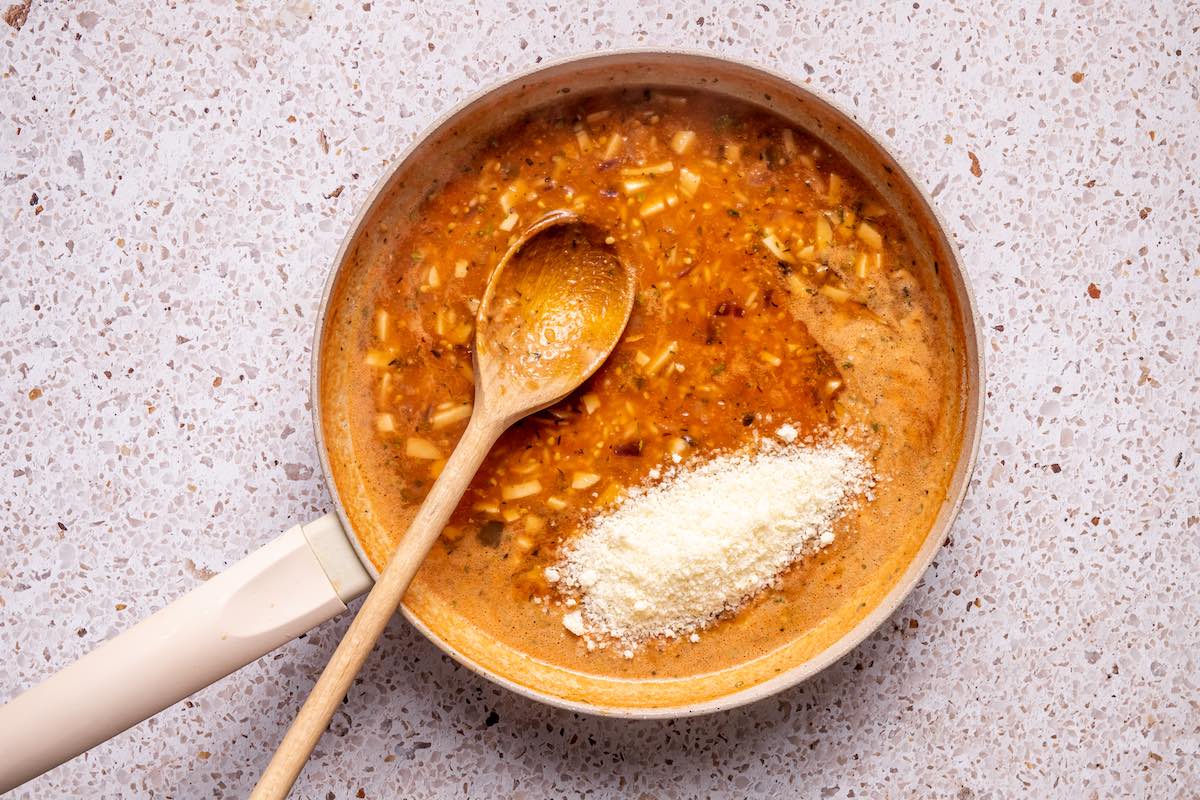 Step 3- Stuff, bake, and serve
Fill the tomatoes generously with stuffing and gently press them down so they pack well. Proceed to bake them in the preheated oven for 20-25 minutes. Remove it from the oven and garnish with parmesan and fresh basil leaves.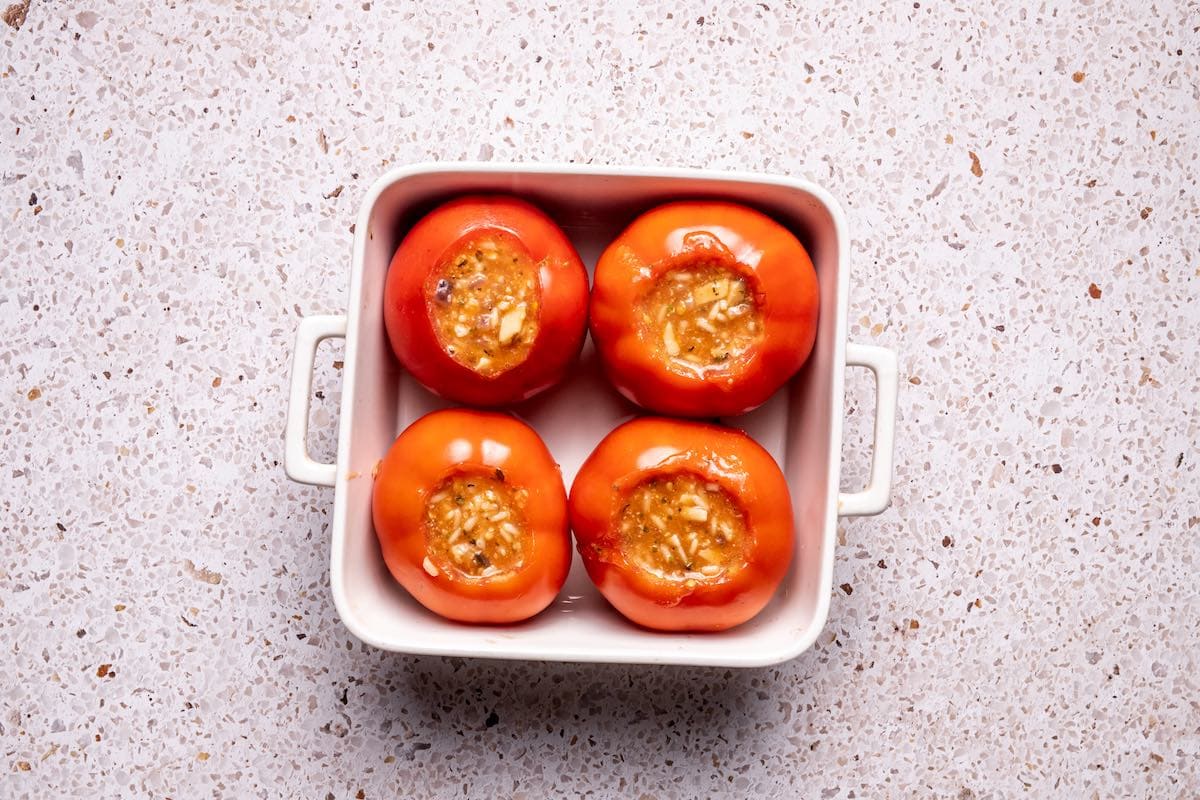 What to serve with stuffed tomatoes
While I love serving stuffed tomatoes as the main course, it can also be enjoyed with other sides or mains. 
If making breakfast, serve it with a side of eggs and bacon. Pair stuffed tomatoes with shrimp or protein pasta, green goddess salad, and a side of garlic bread for lunch or dinner. 
Tips to make the best recipe
Make a dry stuffing. Ensure that the liquid is completely absorbed in the rice stuffing. The residual moisture will make the roasted tomatoes soggy.
Use the largest available tomatoes. To use the entire stuffing, I recommend you pick the largest tomatoes to fill.  
Trim off the pointy bases. Flatten out the tomato bottoms by cutting a small portion of the pointed base so they can stand comfortably on the baking tray. 
Line the baking dish. Cover the baking dish with aluminum foil, then put the tomatoes on it to avoid spillage.
Flavor variations
Make it cheesier. Add mozzarella cheese to the mixture for an indulgent cheesy stuffing. Or use feta or goat cheese with your favorite Italian herbs.
Add Indian flavors. Use curry powder instead of Italian seasoning and cottage cheese instead of parmesan to make Indian stuffed tomatoes. Garnish with chopped fresh coriander.   
Change the protein. Instead of oyster mushrooms, use ground beef, minced chicken, or turkey in the stuffing.  
Make it spicy. Amp up the heat by adding chili flakes and paprika powder. You can also add roasted garlic if you like the garlicky taste. 
Swap out the rice. Use bread crumbs or quinoa instead of rice, or lower the carbs by using cauliflower rice.
Storage instructions
To store. In an airtight container, you can store baked stuffed tomatoes in the refrigerator for 3-4 days. 
To freeze. Although I don't recommend freezing stuffed tomatoes as they tend to get mushy, you can store them in a freezer for several months.
Reheat. Make a thin layer of water in the baking dish, and keep the tomatoes in it. Bake it covered in the oven for 10-15 minutes until hot.
Recommended tools to make this recipe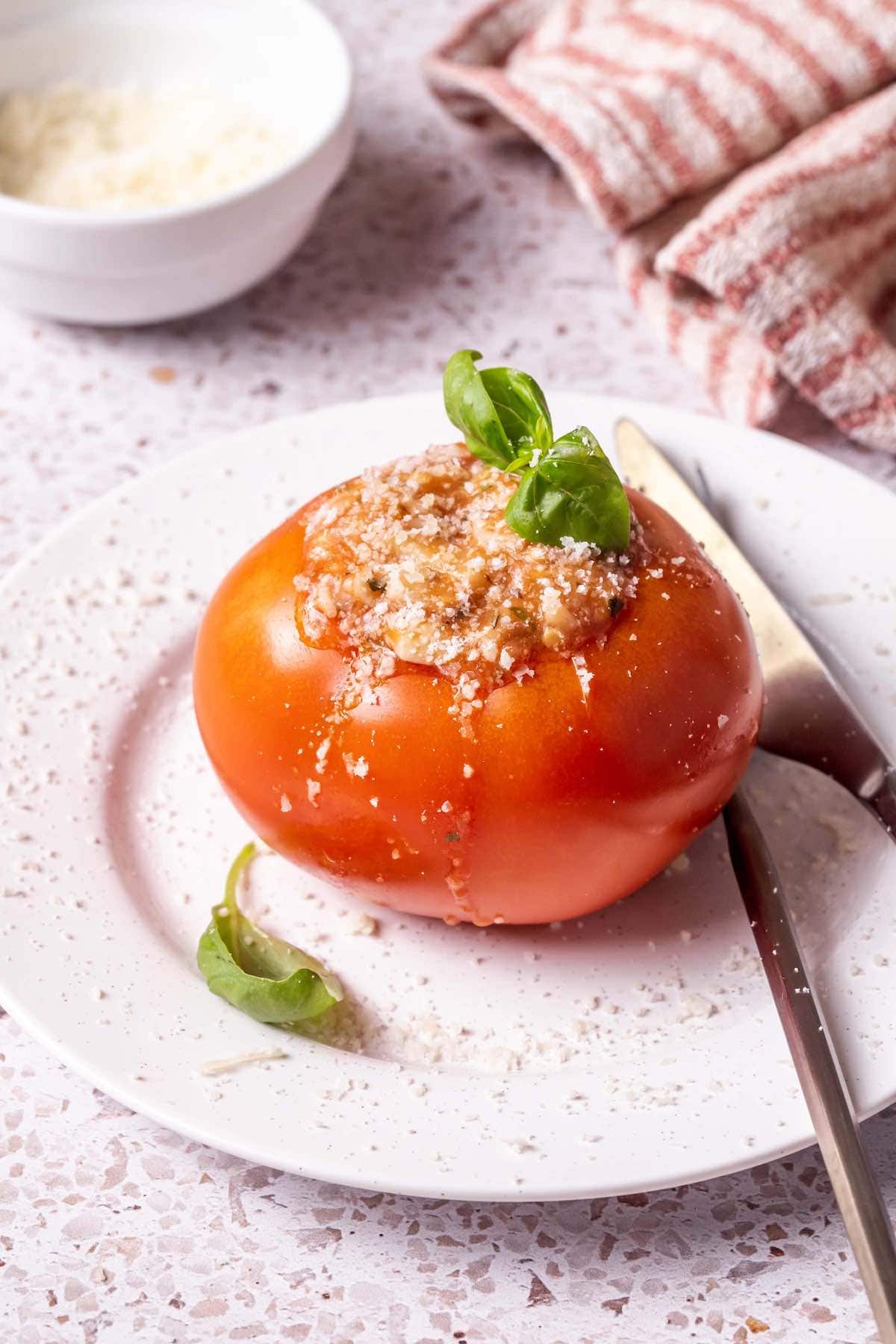 More flavorful stuffed recipes to try:
Frequently asked questions
Can I bake these tomatoes in the air fryer?
To bake them in the air fryer, cook them for 10-12 minutes at 200℃. Alternatively,  cook them in a cast iron pan for a smoky flavor.
Which tomatoes are best for stuffing?
Look for large, firm, plump, bright red round tomatoes for maximum flavor.
How to scoop out the insides of tomatoes?
I often use a regular kitchen spoon to scrape out the tomato flesh, but a spoon with a jagged edge works the best.  
Can I make stuffed tomatoes in advance?
You can prep and stuff the tomatoes a day in advance and refrigerate them until baking. This way, you get ready-to-bake tomatoes for the next day.
Preheat the oven to 200C/400F.

Cut off the tops from the tomatoes and scoop out the insides. Reserve the innards of the tomatoes. Place tomatoes in a small baking dish.

In a medium sized skillet over medium-high heat, melt butter and saute onion until translucent. Add mushrooms and cook for a couple of minutes, before adding the rice. Cook until it starts glistening. Slowly add the vegetable broth, stirring regularly.

Once all the liquid has been absorbed, add spices and the insides of the tomatoes. Cook for a couple of more minutes, then add parmesan.

Evenly distribute the filling amongst the scooped out tomatoes.

Bake for 20 minutes, or until golden on top.
TO STORE. In an airtight container, you can store baked stuffed tomatoes in the refrigerator for 3-4 days. 
TO FREEZE. Although I don't recommend freezing stuffed tomatoes as they tend to get mushy, you can store them in a freezer for several months.
TO REHEAT. Make a thin layer of water in the baking dish, and keep the tomatoes in it. Bake it covered in the oven for 10-15 minutes until hot.
Serving: 1servingCalories: 169kcalCarbohydrates: 23gProtein: 5gFat: 7gSodium: 317mgPotassium: 560mgFiber: 4gVitamin A: 1851IUVitamin C: 27mgCalcium: 87mgIron: 2mgNET CARBS: 19g
Disclosure: This post may contain affiliate links. I may earn a small commission for my endorsement, recommendation, testimonial, and/or link to any products or services from this website.