This twist on Italian stuffed peppers swaps the traditional beef and rice filling for a mouthwatering mix of ground pork, bulgur, aromatics, and Italian-inspired seasonings. Enjoy them as a wholesome and flavorful weeknight dinner or make-ahead meal!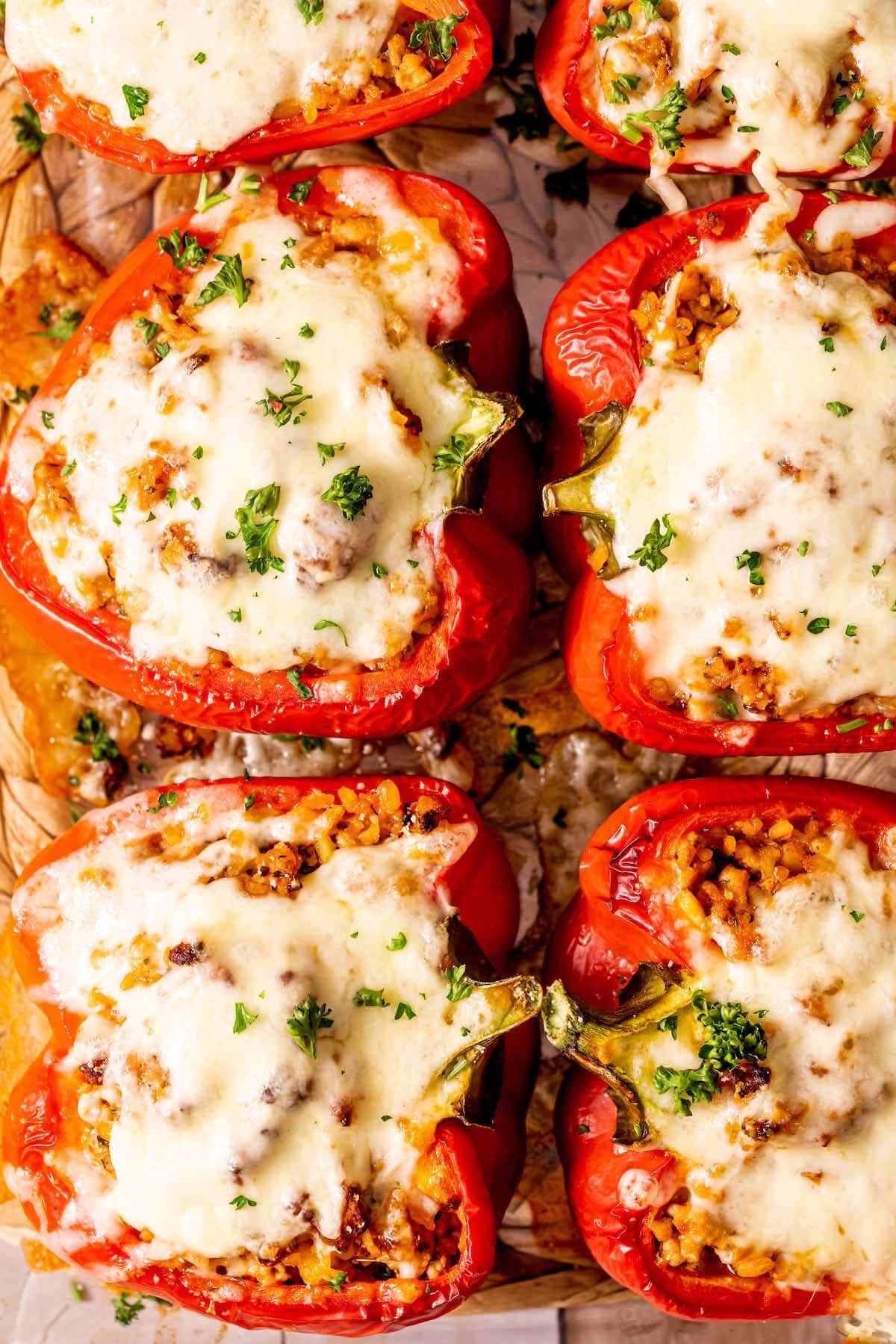 Stuffed peppers are a favorite for dinner in my house because they're easy to make and fill with all kinds of flavor-packed ingredients. My healthy stuffed peppers keep it classic with the traditional ground beef and white rice, while these Italian stuffed peppers have a more wholesome twist!
Filled with ground pork, bulgur, and Italian seasonings, it's a crowd-pleasing meal with a great depth of flavor. It's healthy, too, with protein from the ground pork and fiber, vitamins, and minerals from the bulgur.
The best part? These peppers are simple and quick enough to add to your weekly meal rotation, and easy to tailor to your family's tastes and dietary needs!
Why this recipe works
You can never have enough meal-prep-friendly recipes in your repertoire, like sheet pan chicken and veggies and ground beef meatballs. This stuffed peppers recipe is no exception because it's:
Easy for all home cooks. Making these stuffed peppers is foolproof whether you're a seasoned home cook or a beginner!
Balanced and flavorful dish. The peppers are loaded with protein and fiber thanks to the wholesome and flavor-packed ingredients. One stuffed pepper should be enough to fill you up!
Incredibly flexible! Customize the recipe to find your perfect flavor balance or to fit everyone's dietary needs. It's easy to make vegetarian, low-carb, gluten-free, Whole30, and dairy-free.
A family meal you can make ahead. Save time by making the filling or stuffing the peppers ahead of time. Pop them in the oven when it's time to eat and enjoy!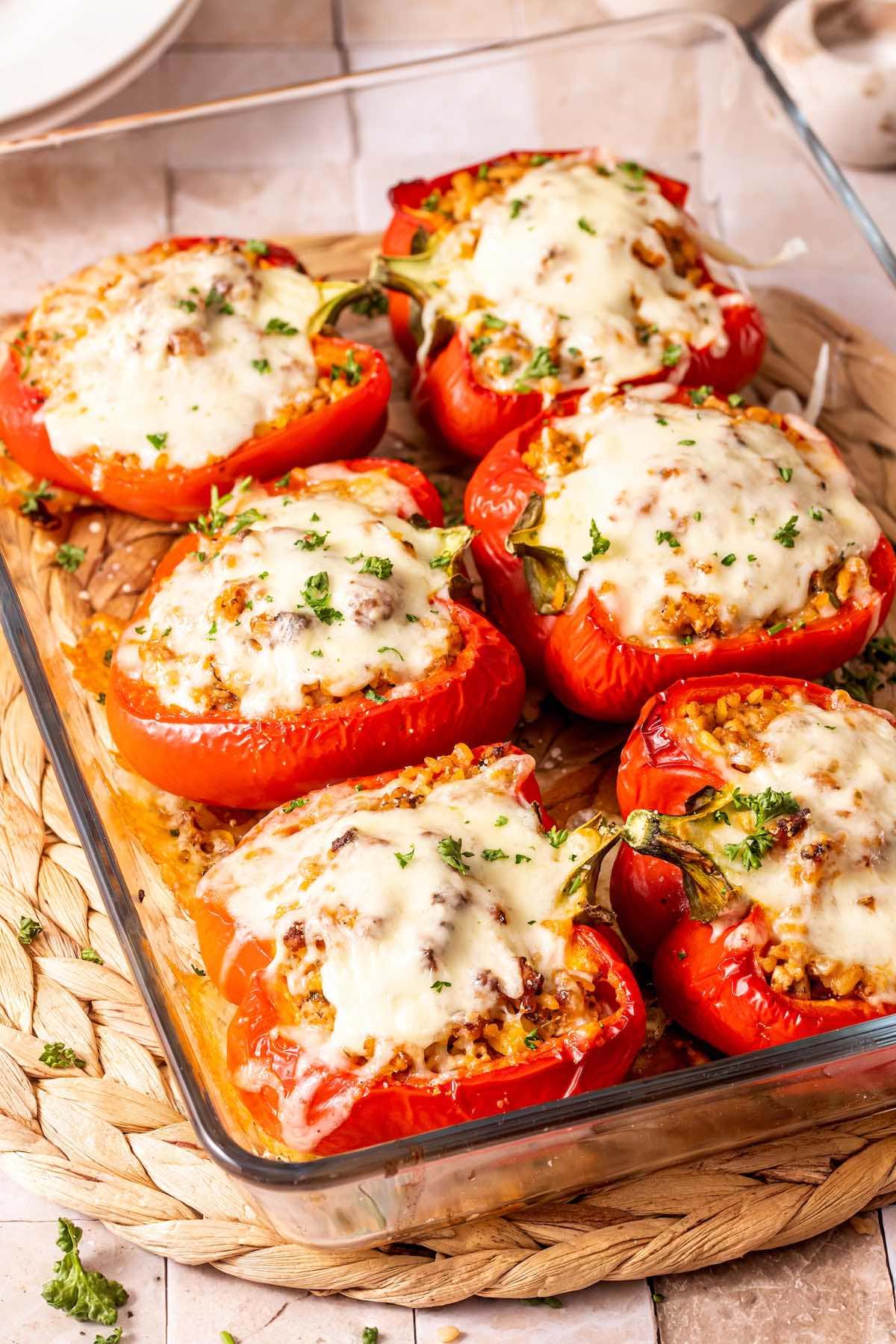 Ingredients needed
This easy dinner idea uses straightforward and easy-to-find ingredients. This is what you need:
Bell peppers. Try to find even-sized large bell peppers. I used red bell peppers, but feel free to use orange, yellow, and/or green peppers. 
Olive oil. To prevent the filling mixture from sticking to the skillet.
Onion and garlic. This aromatic duo gives the filling a base of deep, savory flavors. 
Ground pork. The main protein in this stuffed pepper recipe.
Italian seasoning. A one-stop shop for perfectly balanced Italian-inspired flavor. 
Salt and black pepper. To taste. 
Bulgur. Stuffed peppers are typically made with rice, but bulgur is a more nutritious option as it's packed with fiber, protein, vitamins, and minerals. 
Parmesan. This classic Italian ingredient gives the filling a salty and cheesy flavor. 
Canned chopped tomatoes. To enhance the umami element while adding moisture to the filling. 
Mozzarella cheese. To melt on top of the peppers. 
How to make Italian stuffed peppers
If you're looking for an easy-to-make dinner that everyone will love, these Italian stuffed peppers are a great option! Here's an overview of the instructions:
Step 1 – Prep the peppers 
Cut the peppers in half lengthwise and scoop out the seeds and membrane. Place them in a baking dish, cut side up. 
Step 2 – Saute the aromatics
Heat the olive oil in a skillet over medium-high heat. When it's hot, add the onion and cook until it becomes translucent. Add the garlic and cook for 1 more minute.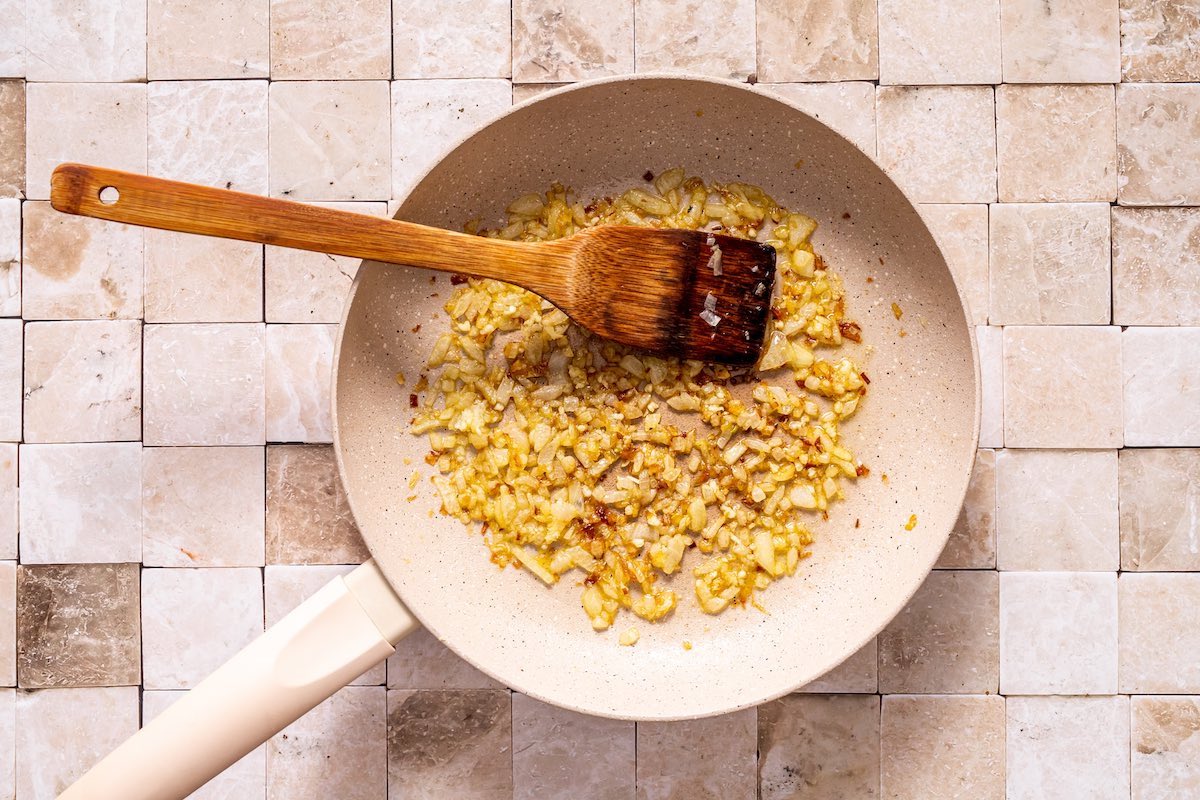 Step 3 – Make the filling
Add the ground pork to the skillet and cook until it's no longer pink and begins browning. Stir in the spices and bulgur, followed by the parmesan and tomatoes.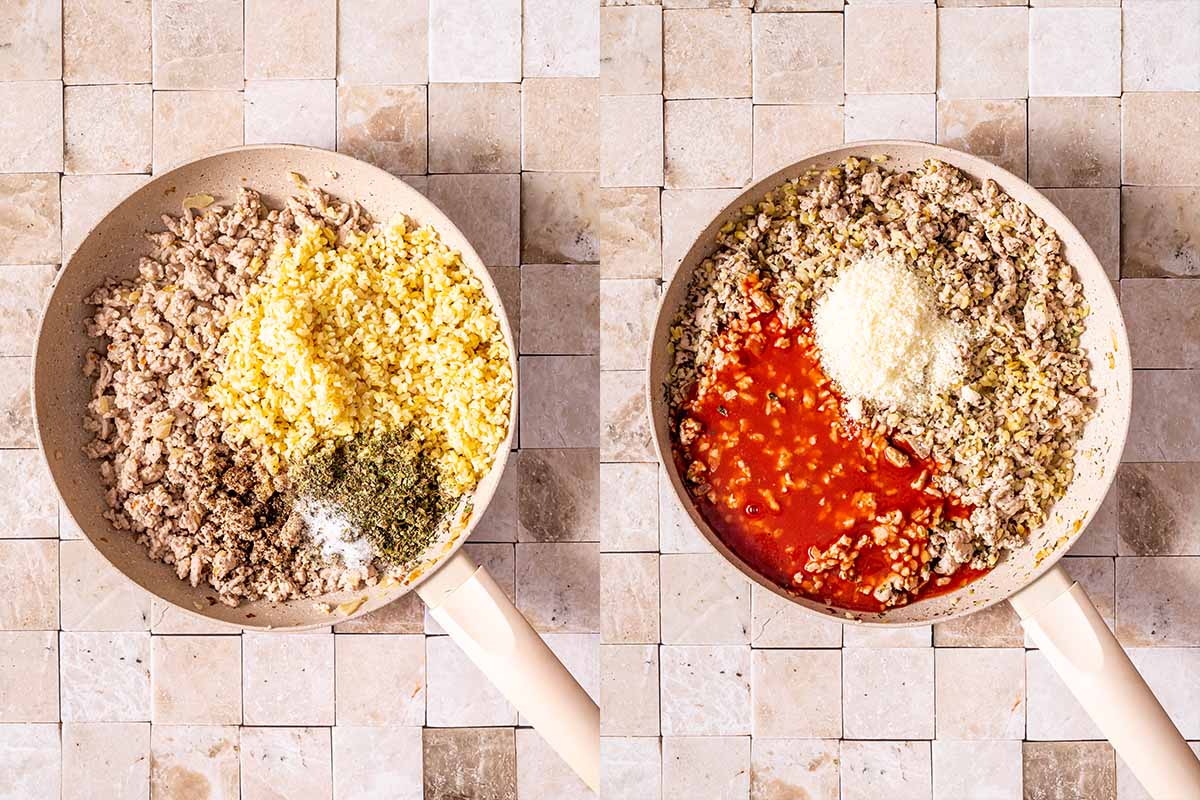 Step 4 – Assemble, bake, and serve 
Spoon the filling into the peppers, then bake.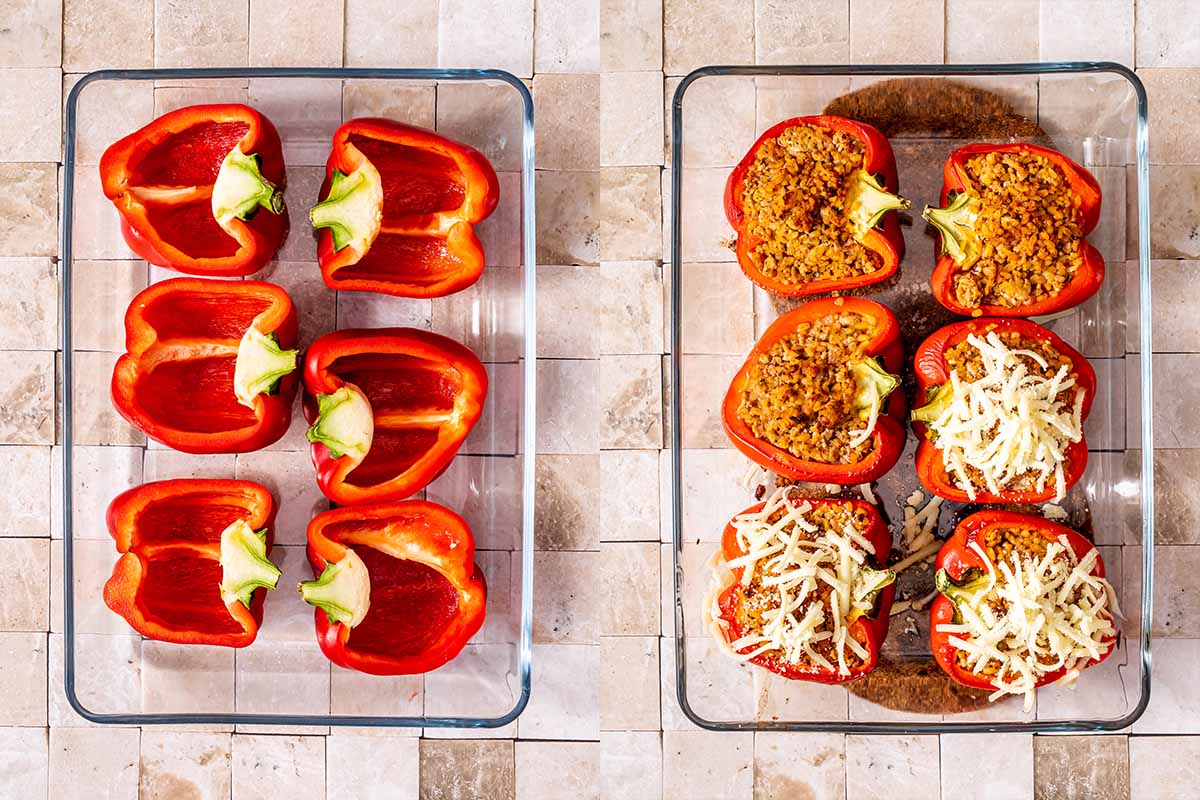 Take them out of the oven and top each pepper with mozzarella. Continue baking until the cheese is melted, then garnish with fresh parsley or basil and enjoy!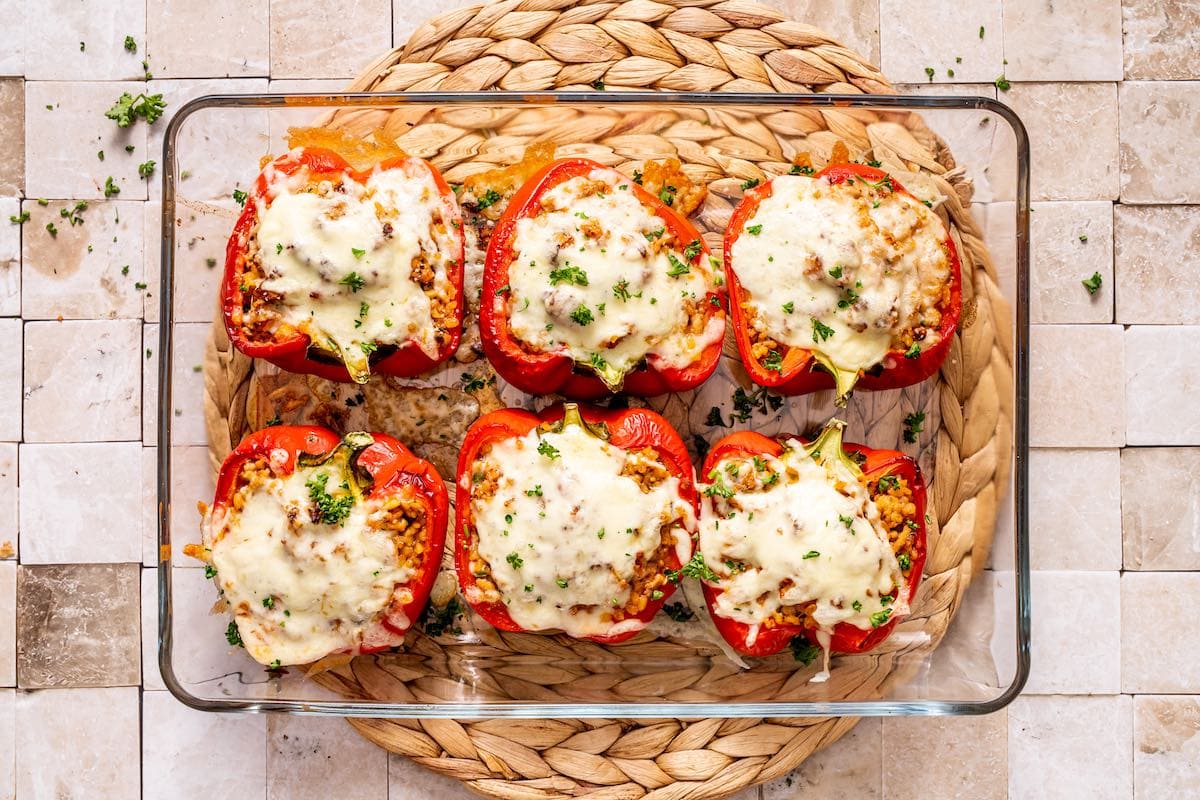 Tips to make the best recipe
How to prep the bulgur. The bulgur is parboiled as it cooks with the filling, so it doesn't technically need to be cooked ahead of time. However, soaking the grains in water can help them cook faster. Check the package for further preparation instructions before adding it to the filling.
To prevent the filling from spilling out. Don't fill the peppers more than ⅔ to ¾ full, and arrange them in the baking dish in a snug single layer. 
To prevent burning. If you notice the top of the filling is cooking quicker than the middle, cover the baking dish with a layer of foil, then remove it when you're ready to melt the cheese on top. 
Let the peppers cool. Set the baked peppers aside to cool for 5 to 10 minutes when they come out of the oven. This gives the filling time to settle and prevents it from spilling out and making a mess. 
Flavor variations
What I love the most about these stuffed peppers is that they are so customizable! You can come up with all kinds of flavors and combinations with these ingredient variations:
Meat. Replace the ground pork with beef, chicken, turkey, lamb, or veal. Or make sausage stuffed peppers with ground Italian sausage. 
Veggies. Bulk up the filling with extra vegetables, like finely diced carrots, celery, corn, kale, mushrooms, peas, baby spinach, or zucchini.
Grains. If you prefer not to use bulgur, swap it for cooked quinoa, white or brown rice, couscous, or farro.  
What's even better is that this stuffed peppers recipe can easily be customized for everyone's dietary needs, such as:
Vegetarian. Replace the pork with cooked lentils, crumbled tofu, crumbled vegan meatballs, or your favorite plant-based ground "meat."
Dairy free. Swap the cheeses for plant-based cheese alternatives, like vegan parmesan, shredded vegan cheese, or nutritional yeast.
Gluten free. Bulgur is not a gluten free grain, so you'll need to use quinoa, rice, rolled oats, or gluten free breadcrumbs instead.
Low carb. Use cauliflower rice instead of bulgur, just like in these keto stuffed peppers.
Paleo and Whole30. Substitute the bulgur with cauliflower rice, the parmesan with nutritional yeast, and omit the mozzarella.
What to serve with this dish
These stuffed peppers are a hearty and filling meal on their own, but they're also complemented well with cheesy garlic bread sticks and sides, like pasta salad, broccolini, asparagus, mushrooms, eggplant, and sweet potato fries. 
Storage instructions
To make ahead: Assemble the peppers without baking, then store them in an airtight container in the fridge for up to 24 hours. If you're storing them in the freezer, wrap each assembled pepper in plastic wrap or aluminum foil, then freeze in a freezer-safe container for up to 3 months. Thaw in the fridge, let the peppers come to room temperature, and bake as instructed.
To store: Keep the leftovers in a sealed container in the fridge for up to 5 days.
To freeze: Place cooled stuffed peppers in a freezer-safe container and freeze for up to 6 months. Thaw in the fridge before reheating. 
To reheat: You can either reheat leftover stuffed peppers in the microwave or a 350°F/180°C oven until heated through.
Recommended tools to make this recipe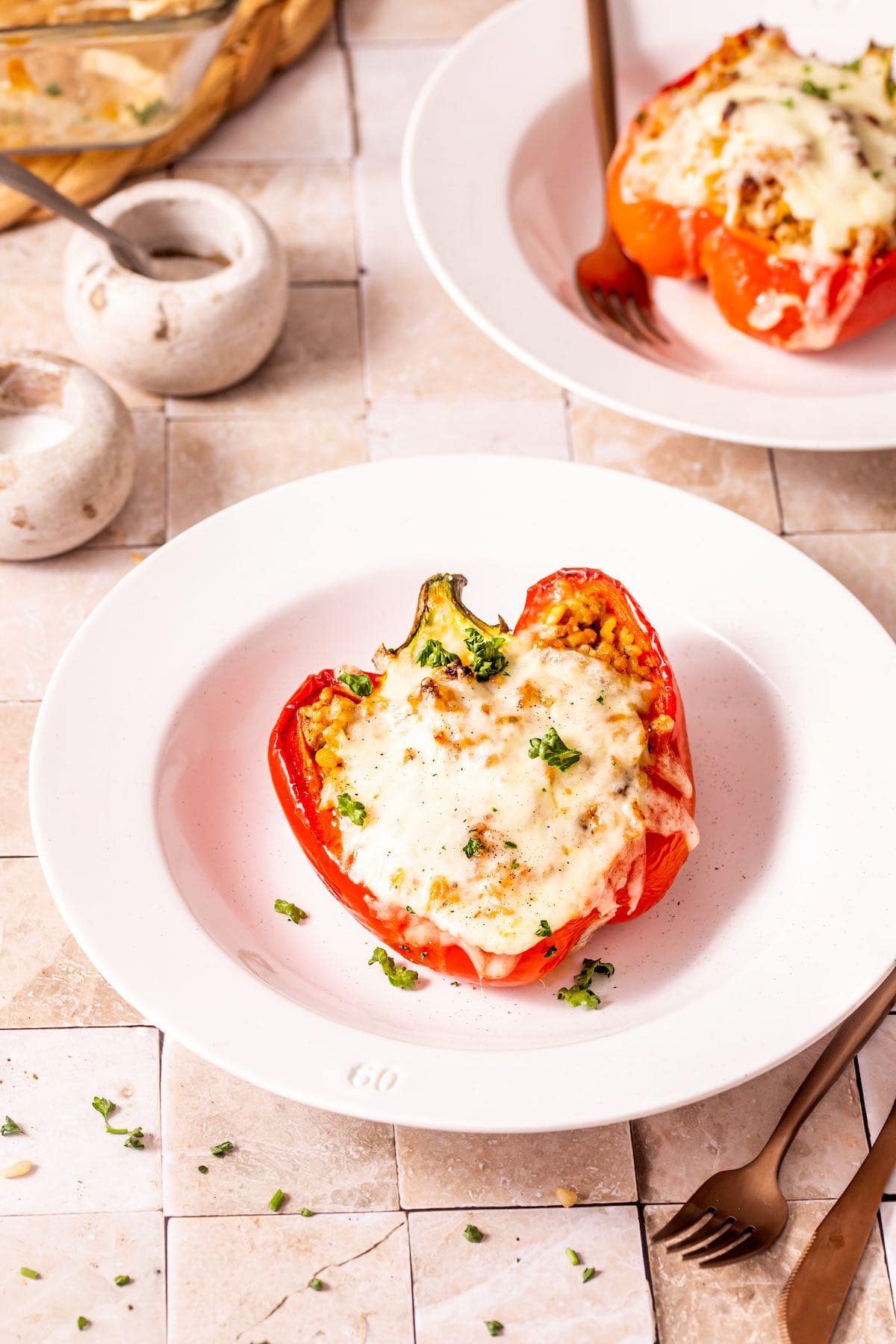 More Italian-inspired recipes 
Frequently asked questions 
How do you cook stuffed peppers in an air fryer?
Place the assembled stuffed peppers in an air fryer basket and cook at 400°F/200°C for 10 minutes, turning halfway through.
How do you cook stuffed peppers in the Instant Pot?
Place the trivet into the Instant Pot and the assembled peppers on top (minus the cheese topping). Pressure cook on High for 10 minutes, then add the cheese on top. Place the lid back on top (without turning the machine on) and let the peppers sit until the cheese has melted.
How do you cook stuffed peppers in a slow cooker?
Place the assembled peppers in the slow cooker with a splash of water or broth. Cook on Low for 6 to 8 hours or on High for 3 to 4 hours. 
Preheat the oven to 180C/350F. Lightly grease a large baking dish.

Slice the bell pepper in half, remove the seeds, and place it in the baking dish, sliced side up.

Heat olive oil in a skillet over medium-high heat. Add onion and cook until it becomes translucent. Add garlic and cook for one minute more.

Add the ground pork and cook until it changes color and starts browning. Add the spices followed by bulgur. Mix everything and add parmesan and tomatoes. Cook for a couple of more minutes and set aside.

Evenly distribute the filling amongst the peppers and bake in the oven for 30 minutes. Top with mozzarella cheese and cook until the cheese melts.
TO STORE: Keep the leftovers in a sealed container in the fridge for up to 5 days.
TO FREEZE: Place cooled stuffed peppers in a freezer-safe container and freeze for up to 6 months. Thaw in the fridge before reheating. 
TO REHEAT: You can either reheat leftover stuffed peppers in the microwave or a 350°F/180°C oven until heated through.
Serving: 1stuffed pepperCalories: 375kcalCarbohydrates: 35gProtein: 25gFat: 16gSodium: 652mgPotassium: 772mgFiber: 9gVitamin A: 2809IUVitamin C: 112mgCalcium: 161mgIron: 4mgNET CARBS: 26g
Disclosure: This post may contain affiliate links. I may earn a small commission for my endorsement, recommendation, testimonial, and/or link to any products or services from this website.