This air fryer fried chicken is just as crispy and juicy as you'd expect but without all the fuss of deep frying them! This tastes like KFC, but so much better for you!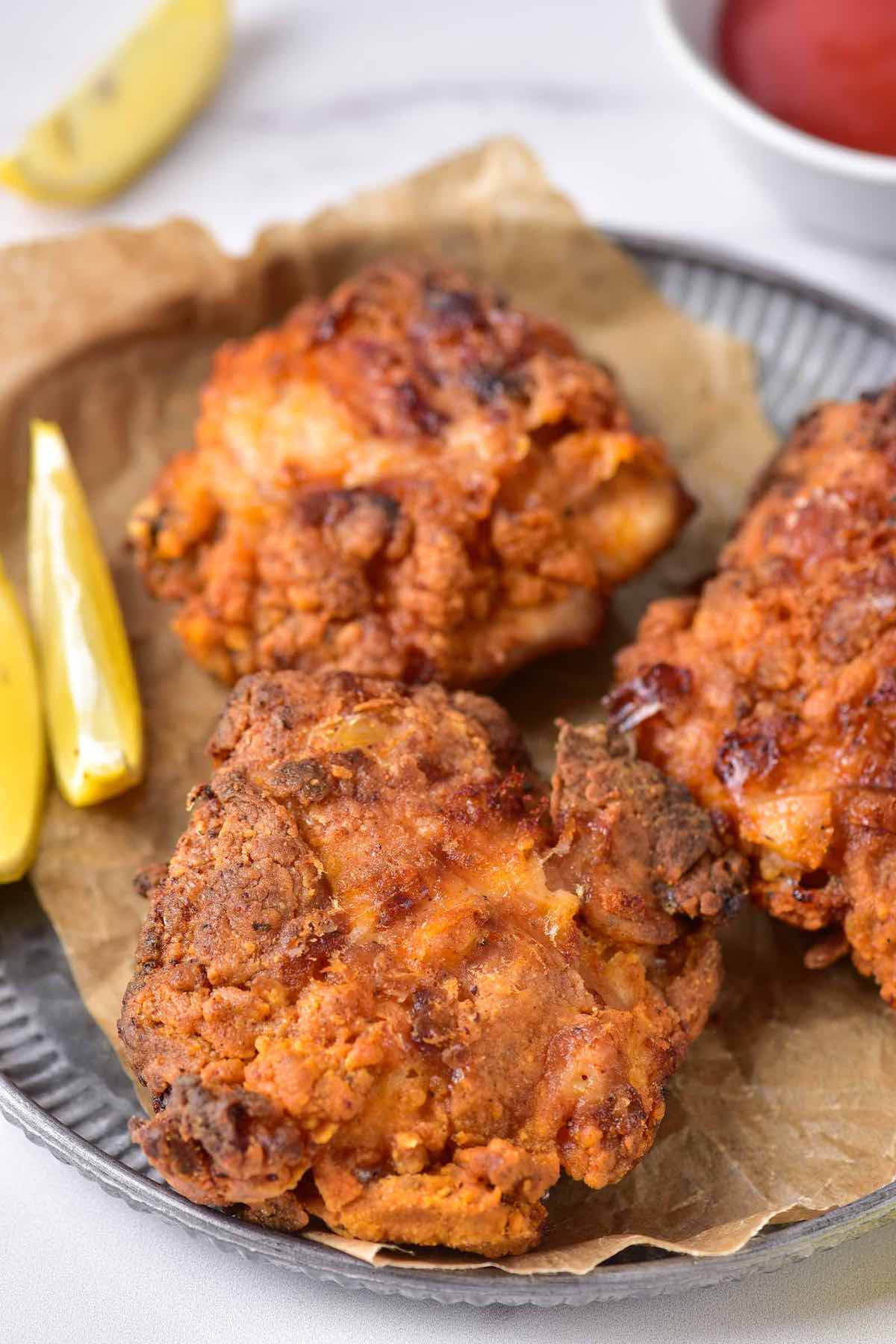 The beauty of using an air fryer is that it cuts down on the fat and calories of traditionally calorie-dense foods.
We've given tons of classics a makeover, including chicken nuggets, turkey bacon, chicken wings, and even grilled cheese. Now, we've added the famous fried chicken into the mix!
Table of Contents
Why this recipe works 
Easy prep.

With easy-to-follow steps, you don't have to go through much hassle. 

Quick.

Dip, fry, coat, and

air fry; all of this comes together in minutes!

Healthy. Traditional fried chicken is loaded with extra fat and calories. In this version, there is a fraction of both!
Fuss-free

. Fried chicken (or any fried food, really) makes quite a mess in the kitchen, but using the air fryer negates all of it completely! 
What I love the most about this air fryer fried chicken recipe is that each piece of chicken will be crispy on the outside with tender, juicy meat inside. Like oven fried chicken, this recipe is easy to make and so good it hides the fact that it's healthier.
Ingredients needed 
If you've ever made fried chicken before, you'll notice the ingredients are almost identical, except all the oil for deep frying. Here is what you'll need:
For the marinade
Chicken pieces. Get bone-in and skin-on chicken, including a mix of thighs, chicken drumsticks, and breasts.
Buttermilk. A key ingredient in fried chicken. It helps the batter hold onto the chicken better.
Spices. Salt, garlic powder, and pepper.
For the breading 
Flour. Either all-purpose flour or wheat flour.
Cornstarch. Thickens the batter.
Spices. Salt, pepper, paprika, onion powder, and garlic powder.
Olive Oil spray. For coating the air fryer basket.
How to make air fryer fried chicken
This recipe is very simple and besides coating the chicken with the batter, the air fryer takes care of all the hard work! Ready to cook some up?
Step 1: Prepare the marinade 
Add spices and buttermilk in a large bowl, along with the chicken. Let it sit for at least 10 minutes to thicken.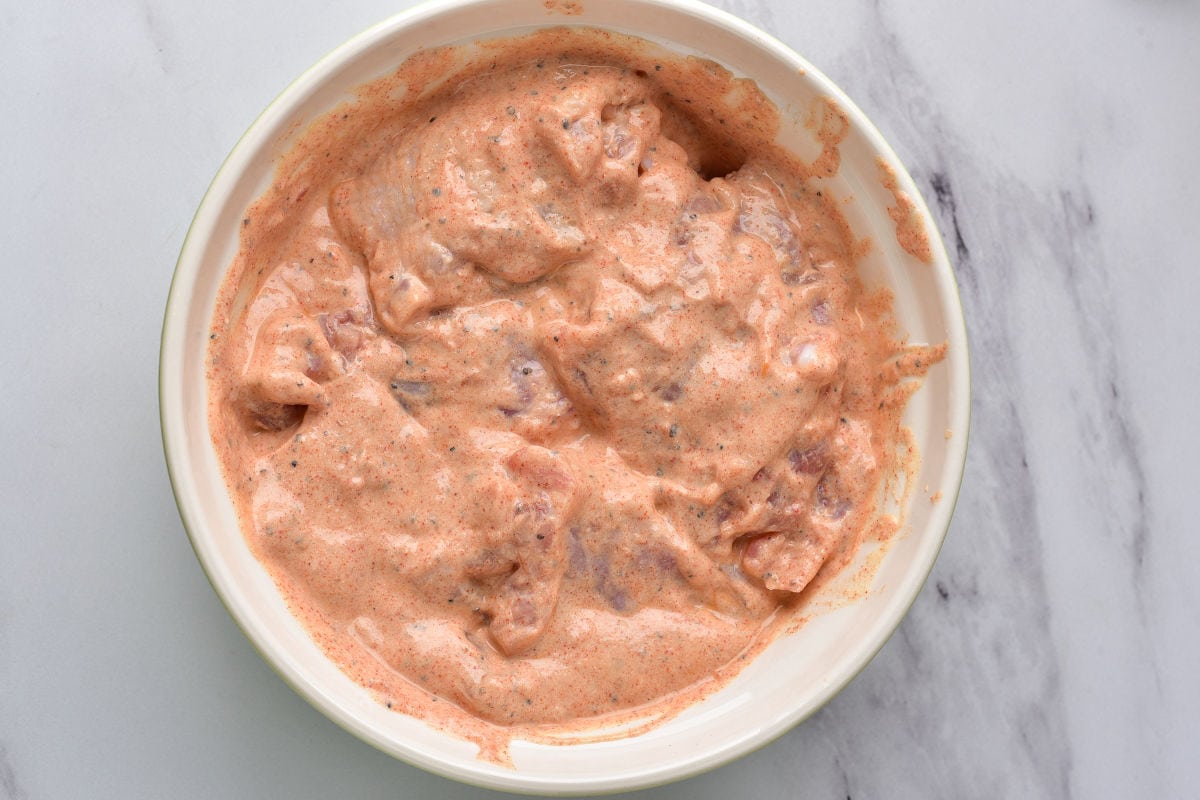 Step 2: Prepare the breading mixture 
Whisk together the ingredients for the breading.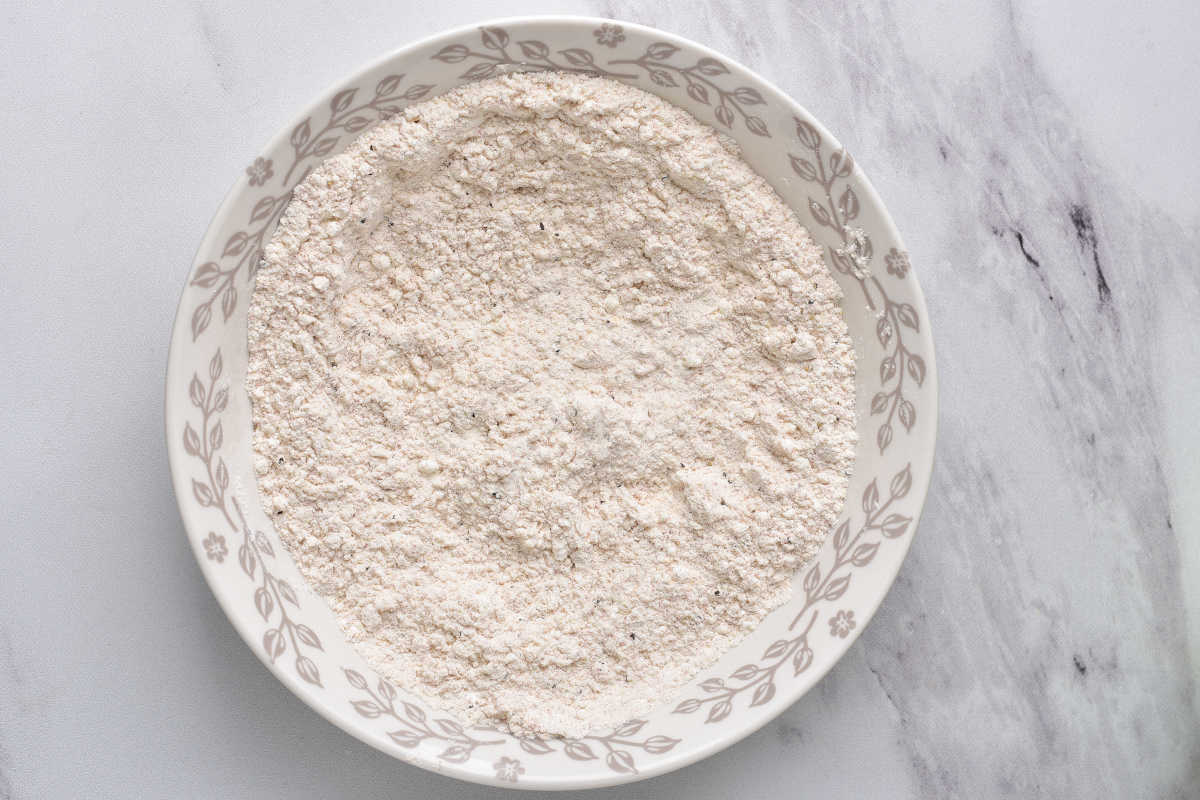 Step 3: Coat the chicken with the flour mixture  
Using tongs, remove pieces of the chicken from the buttermilk mixture, shaking off any excess. Then, moving quickly, dredge the chicken in the flour mixture, ensuring both sides are well coated.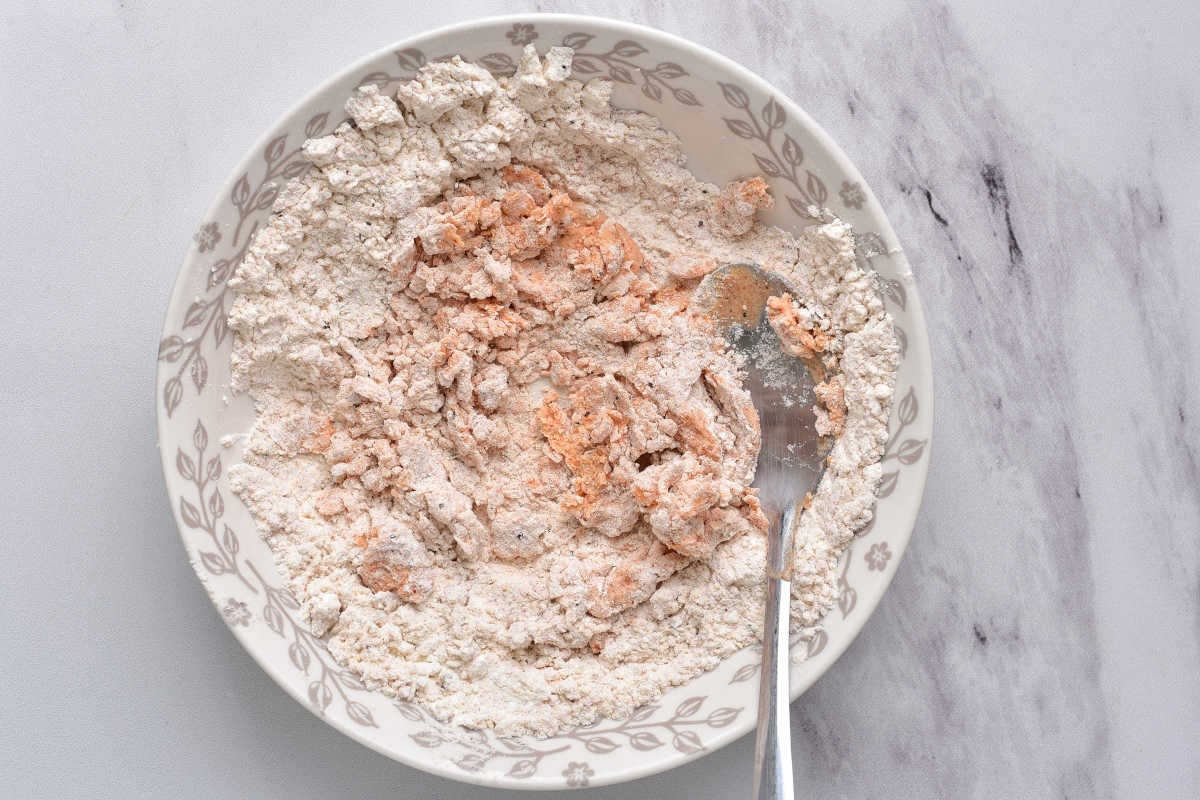 Step 4: Air fry the fried chicken
Generously spray the chicken with cooking spray and place them in a single layer in a greased air fryer basket.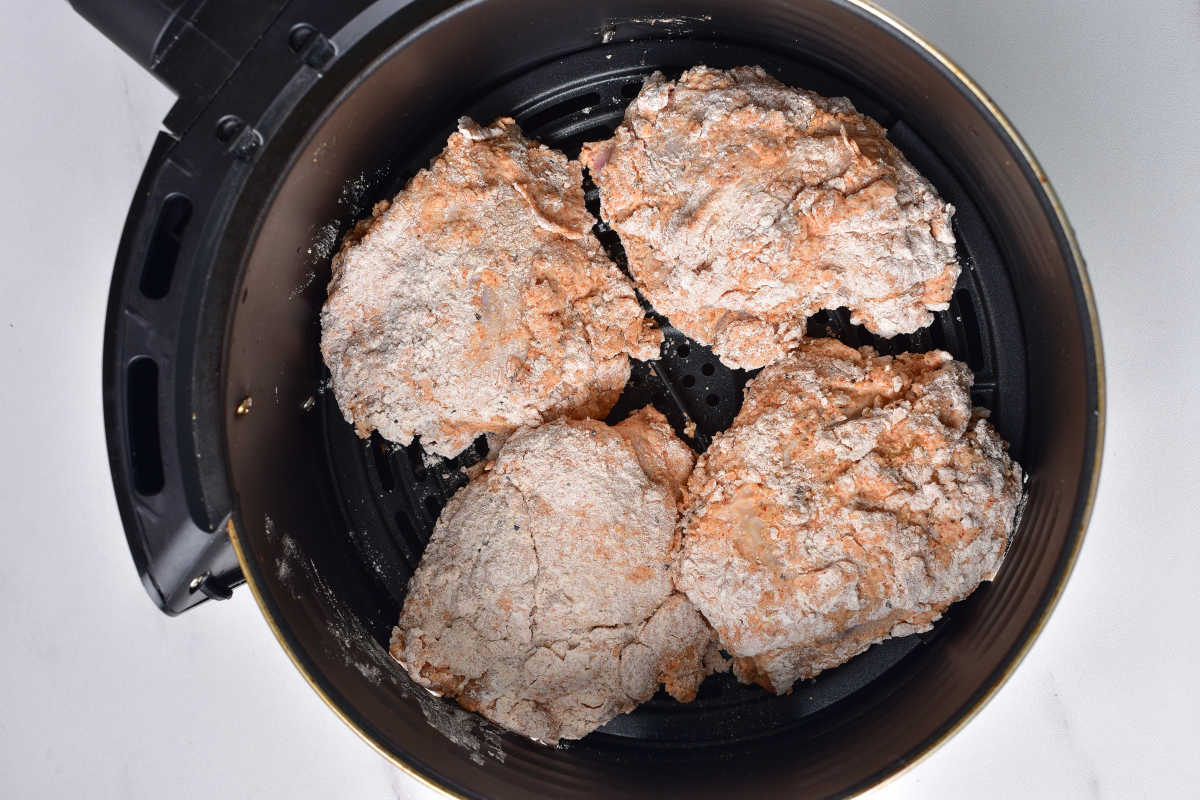 Air fry at 180C/350F for 15 minutes, flip the chicken, spray the chicken again with cooking spray, and cook for another 10 minutes. Once the chicken reaches an internal temperature of 165F, it's ready to serve.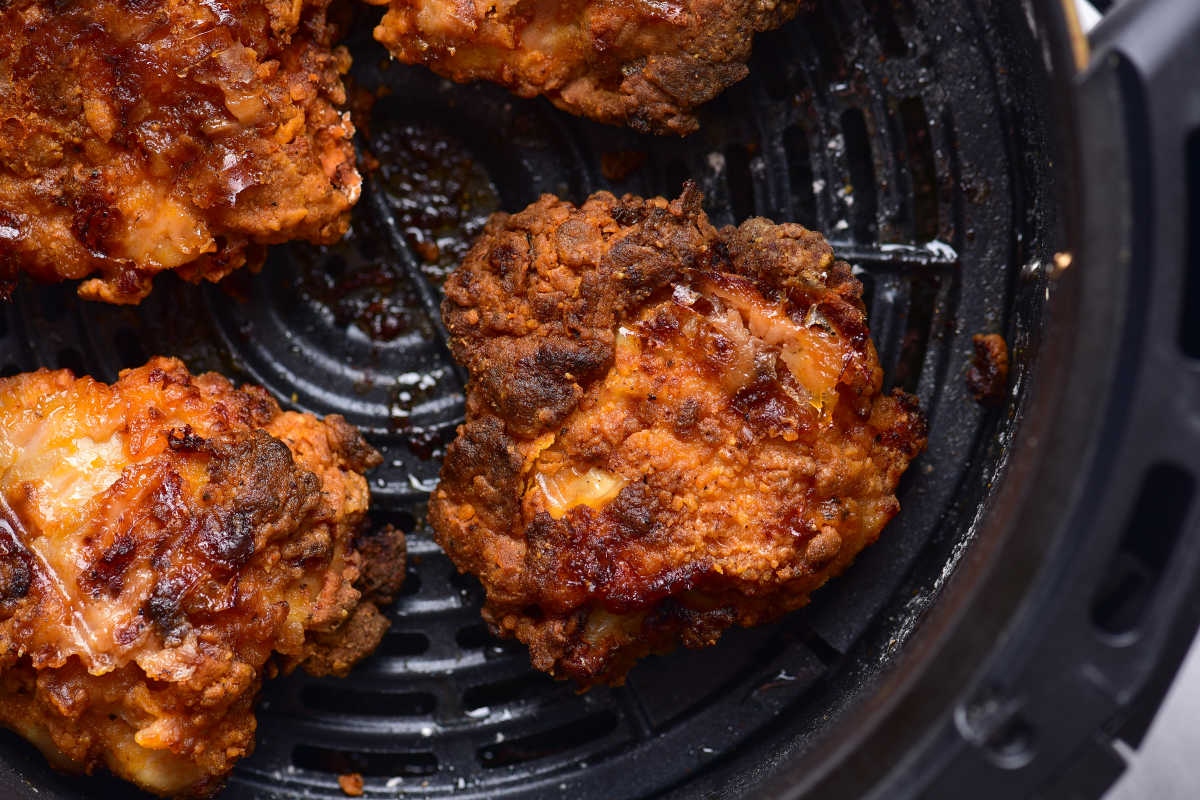 Tips to make the best recipe 
Pat dry the chicken well before coating it with the marinade and breading mixture to

as this will ensure it will be extra crispy and juicy.

Use an instant thermometer to check the internal temperature of the chicken to avoid it cooking for too long. The internal temperature should be at least 165F.

Only add the cornstarch as needed. Too much and the coating will be too thick.

If you love our spicy or hot honey chicken sandwiches, replicate the spice by adding a dash of hot sauce to the batter.
Storage instructions 
To store. Use airtight containers to store the leftovers in the refrigerator for 3 days. 
To freeze. Put the cooked chicken in freezer-safe bags and freeze for up to 6 months. 
Reheating. You can reheat fried chicken in the air fryer or a preheated oven. 
Air fryer. My tried and tested one that air fries everything to perfection.
Tongs. To easily flip the chicken.
Mixing bowls. One for each of the dredging stations.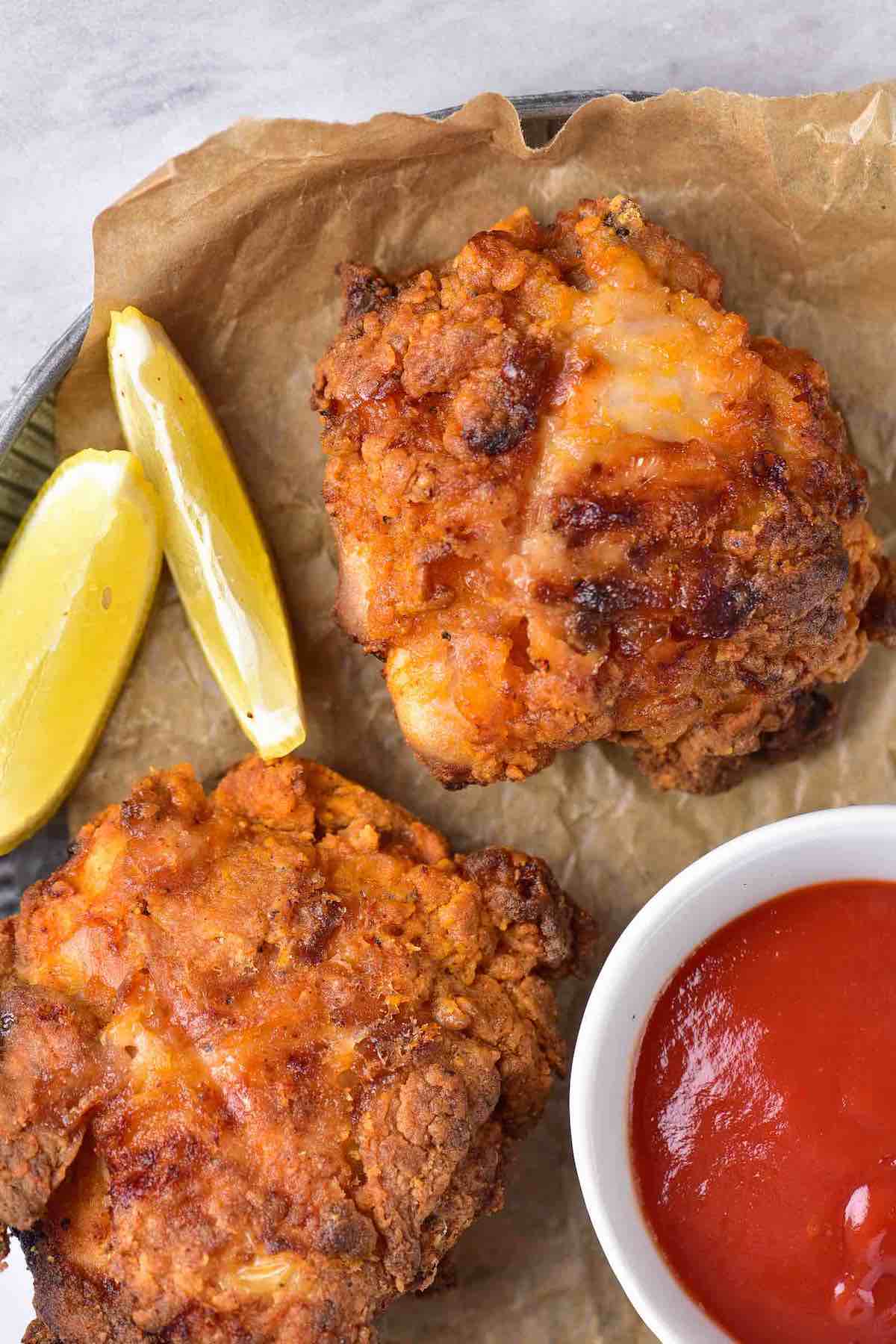 More air fryer chicken recipes
Frequently asked questions 
Can I use other cuts of chicken? 
Yes, you can use any chicken cut that you like. Try to choose fattier cuts like thighs, legs, and drumsticks. 
Are air fryers good to fry chicken? 
Air fryers are perfect for frying chicken as hot air circulates in the air fryer to cook the chicken evenly. They also tend to guarantee more juicy and tender meat.
Is air fryer fried chicken healthy?  
Yes, air fryer fried chicken is healthy, especially compared to other fried foods and deep fried chicken. It contains a fraction of the fat and calories without affecting the flavor or texture. 
Preheat the air fryer to 180C/350F.

In a mixing bowl, add the chicken, buttermilk, salt, and pepper, and let it sit for 10 minutes. In a separate bowl, whisk the breading mixture together.

Using tongs, pick up pieces of the chicken and shake off excess buttermilk. Moving quickly, dip the chicken in the breading on both sides.

Generously spray the air fryer basket. Place a single layer of chicken in it and generously spray it with cooking spray. Air fry the chicken for 15 minutes, flip, spray again, and cook for another 10 minutes.

Once the chicken reaches an internal temperature of 165F, they are ready to be removed from the air fryer. Repeat the process until all the chicken is cooked.
TO STORE: Use airtight containers to store the leftovers in the refrigerator for 3 days.  TO FREEZE: Put the cooked chicken in freezer-safe bags and freeze for up to 6 months.  TO REHEAT: You can reheat fried chicken in the air fryer or a preheated oven. 
Serving: 1servingCalories: 273kcalCarbohydrates: 21gProtein: 17gFat: 13gSodium: 668mgPotassium: 212mgFiber: 1gVitamin A: 282IUVitamin C: 1mgCalcium: 48mgIron: 2mgNET CARBS: 20g
Disclosure: This post may contain affiliate links. I may earn a small commission for my endorsement, recommendation, testimonial, and/or link to any products or services from this website.